I Hope your summer is turning out nicely and your A/C is working well.
August is the summit of Summer when families have shaken off the school year,
the mind turns toward cool pools during the day and long evenings at night.
There is real magic in the feel of a neighborhood this time of year, and seldom does
a season so please a homeowner as summer.

One of my favorite seasonal quotes is by the writer Henry James:
"Summer afternoon, summer afternoon; to me those have always been
the two most beautiful words in the English language."

My six-year-old grandson Noah came to visit me last week and we had a great time together swimming, beaching, and driving go-carts at MB2 Raceway in Sylmar. Noah loves the game of Life and Monopoly so
when he visits we always play many games of each. Remember, you're never too young to own real estate :-)
You can see our photos on my facebook page. Please check us out and be sure to send me a friend request.
I would love to hear what you did over your summer. Please share your best times this summer with me via email, text or an old fashion phone call.
Let's talk about real estate, the market is experiencing the normality of a long hot selling summer with the prime selling season taking a break until September when kids and families get settled into school routines and the weather cools. So if you're considering selling this year, now is the time to prepare your home for the best possible sale.
At this link you can input your city or zip code for interactive real time sales trends for any area.

Buying a new home can be fun and expensive. Did you know how many new homes are for sale in Santa Clarita or Los Angeles County? A whole bunch of new developments are happening now and for the foreseeable future. Here you can do a custom search new construction in the state of California
We keep hearing that home affordability is approaching crisis levels. While this may be true in a few metros across the country, housing affordability is not a challenge in the clear majority of the country. In their most recent Real House Price Index, First American reported that consumer "house-buying power" is at "near-historic levels."
Their index is based on three components:
Median Household Income
Mortgage Interest Rates
Home Prices
The report explains:
"Changing incomes and interest rates either increase or decrease consumer house-buying power or affordability. When incomes rise and/or mortgage rates fall, consumer house-buying power increases."
Combining these three crucial pieces of the home purchasing process, First American created an index delineating the actual home-buying power that consumers have had dating back to 1991.
Here is a graph comparing First American's consumer house-buying power (blue area) to the actual median home price that year from the National Association of Realtors (yellow line).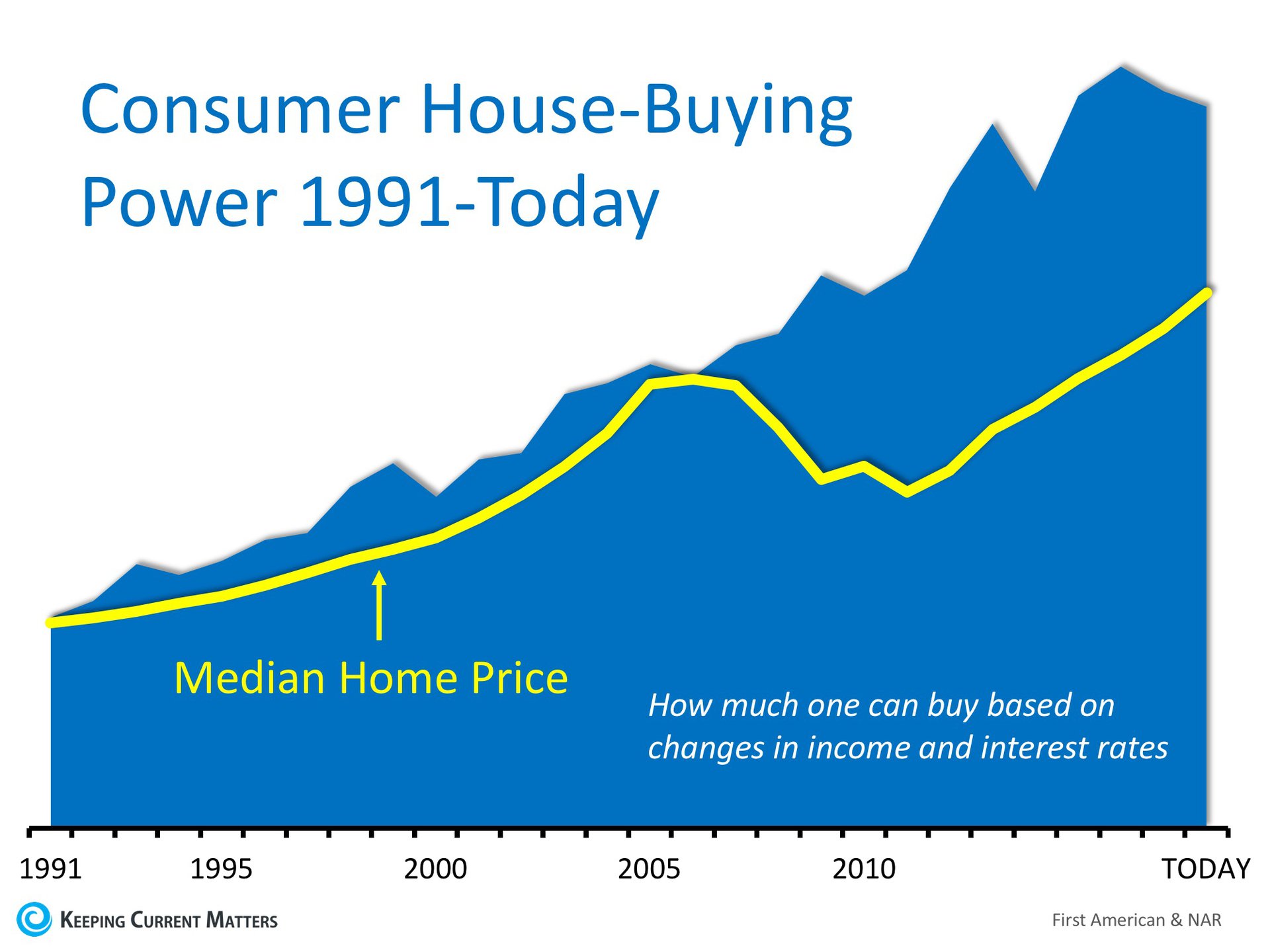 Consumer house-buyer power has been greater than the actual price of a home since 1991. And, the spread is larger over the last decade.
Bottom Line
Even though home prices are increasing rapidly and are now close to the values last seen a decade ago, the actual affordability of a home is much better now. As Chief Economist Mark Fleming explains in the report:
"Though unadjusted house prices have risen to record highs, consumer house-buying power stands at near-historic levels, as well, signaling that real house prices are not even close to their historical peak."
Since the beginning of the year, mortgage interest rates have risen over a half of a percentage point (from 3.95% to 4.52%), accordingto Freddie Mac. Even a small rise in interest rates can greatly impact a buyer's monthly mortgage payment.
First American recently released the results of their quarterly Real Estate Sentiment Index (RESI), in which they surveyed title and real estate agents across the country about the impact of rising rates on first-time homebuyers.
Real estate professionals around the country have not noticed a slowdown in demand for housing among young buyers; nearly 93% of all first-time homebuyers last quarter were between the ages of 21-35, with the largest share of buyers (51%) coming from those ages 26-30.
First American's Chief Economist Mark Fleming had this to say,
"On a national level, mortgage rates would need to hit 5.6%, 1 percentage point above the current rate, before first-time homebuyers withdraw from the market." So, what is slowing down sales?
According to the last Existing Home Sales Report from the National Association of Realtors, sales are now down 3.0% year-over-year and have fallen for the last three months. If rising interest rates aren't to blame, then what is?
Fleming addressed the cause, saying that:
"The housing market is facing its greatest supply shortage in 60 years of record keeping, according to the Federal Reserve Bank of Kansas City. The ongoing housing supply shortage will make it difficult for first-time buyers to find a home to buy, even when they are financially ready."
Bottom Line
First-time homebuyers know the importance of owning their own homes and a spike in interest rates is not going to keep them from buying this year! Their biggest challenge is finding a home to buy!
The Wave of Millennial Homebuyers Continues to Swell
Many have written about the millennial generation and whether or not they, as a whole, believe in homeownership as a part of attaining their American Dream.
Comparatively speaking, millennials have taken longer to obtain traditional milestones (like getting married, having kids and buying a home) than generations before them, but that does not mean that they do not aspire to still achieve those things.
For older millennials (aged 25-34) who have established themselves in their career and are starting to build their families, homeownership is the next logical choice.
According to the Urban Institute's State of Millennial Housing, the probability of a millennial becoming a homeowner increases by 17.9% if they are married, and by an additional 6.2% if they have children.
Last year, according to the US Census Bureau, the average age at first marriage was 30 for men and 27 for women, while the National Association of Realtors (NAR) reports that the average first-time homebuyer was 32 years old.
Bottom Line
If you are currently renting and thinking about jumping into the real estate market this year, let's get together to help you navigate our market.
How Long Do Most Families Live In A House?
The National Association of Realtors (NAR) keeps historical data on many aspects of homeownership. One of their data points, which has changed dramatically, is the median tenure of a family in a home, meaning how long a family stays in a home prior to moving.
As the graph below shows, over the last twenty years (1985-2008), the median tenure averaged exactly six years. However, since 2014, that average is almost ten years – an increase of almost 50%.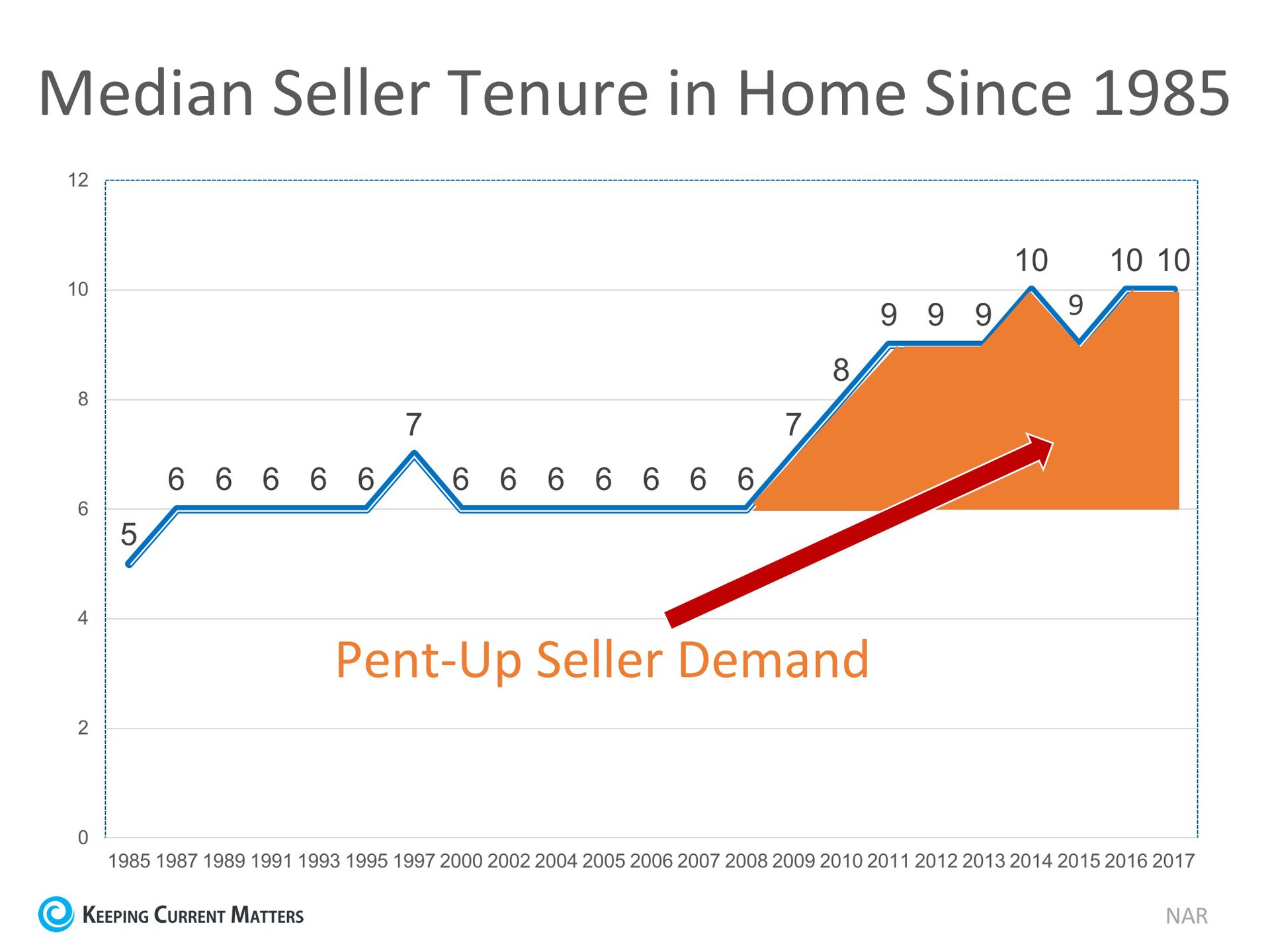 Why the dramatic increase?
The reasons for this change are plentiful!
The fall in home prices during the housing crisis left many homeowners in a negative equity situation (where their home was worth less than the mortgage on the property). Also, the uncertainty of the economy made some homeowners much more fiscally conservative about making a move.
With home prices rising dramatically over the last several years, 95.3% of homes with a mortgage are now in a positive equity situation, according to CoreLogic.
With the economy coming back and wages starting to increase, many homeowners are in a much better financial situation than they were just a few short years ago.
One other reason for the increase was brought to light by NAR in their 2018 Home Buyer and Seller Generational Trends Report. According to the report,
"Sellers 37 years and younger stayed in their home for six years…"
These homeowners, who are either looking for more space to accommodate their growing families or for better school districts to do the same, are likely to move more often (compared to typical sellers who stayed in their homes for 10 years). The homeownership rate among young families, however, has still not caught up to previous generations, resulting in the jump we have seen in median tenure!
What does this mean for housing?
Many believe that a large portion of homeowners are not in a house that is best for their current family circumstance; they could be baby boomers living in an empty, four-bedroom colonial, or a millennial couple living in a one-bedroom condo planning to start a family.
These homeowners are ready to make a move, and since a lack of housing inventory is still a major challenge in the current housing market, this could be great news.
Some Highlights:
With interest rates still around 4.5%, now is a great time to look back at where rates have been over the last 40 years.
Rates are projected to climb to 5.1% by this time next year according to Freddie Mac.
The impact your interest rate makes on your monthly mortgage cost is significant!
Lock in a low rate now while you can!
Rising home prices have many concerned that the average family will no longer be able to afford the most precious piece of the American Dream – their own home.
However, it is not just the price of a home that determines its affordability. The monthly cost of a home is determined by the price and the interest rate on the mortgage used to purchase it.
Today, mortgage interest rates stand at about 4.5%. The average annual mortgage interest rate from 1985 to 2000 was almost double that number, at 8.92%. When comparing affordability of homeownership over the decades, we must also realize that incomes have increased.
This is why most indexes use the percentage of median income required to make monthly mortgage payments on a typical home as the point of comparison.
Zillow recently released a report comparing home affordability over the decades using this formula. The report revealed that, though homes are less affordable this year than last year, they are more affordable today (17.1%) than they were between 1985-2000 (21%). Additionally, homes are more affordable now than at the peak of the housing bubble in 2006 (25.4%). Here is a chart of these findings: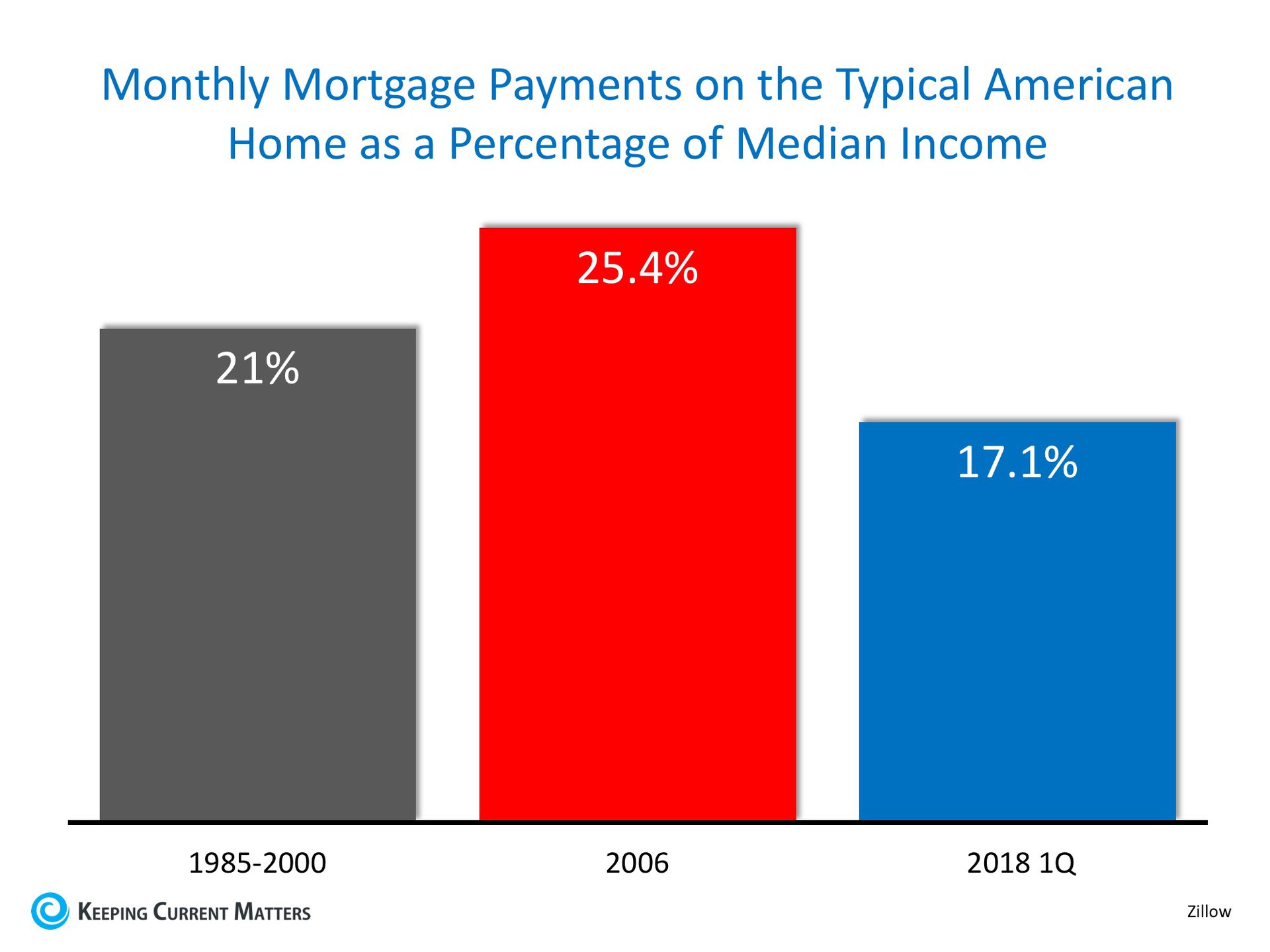 What will happen when mortgage interest rates rise?
Most experts think that the mortgage interest rate will increase to about 5% by year's end. How will that impact affordability? Zillowalso covered this in their report: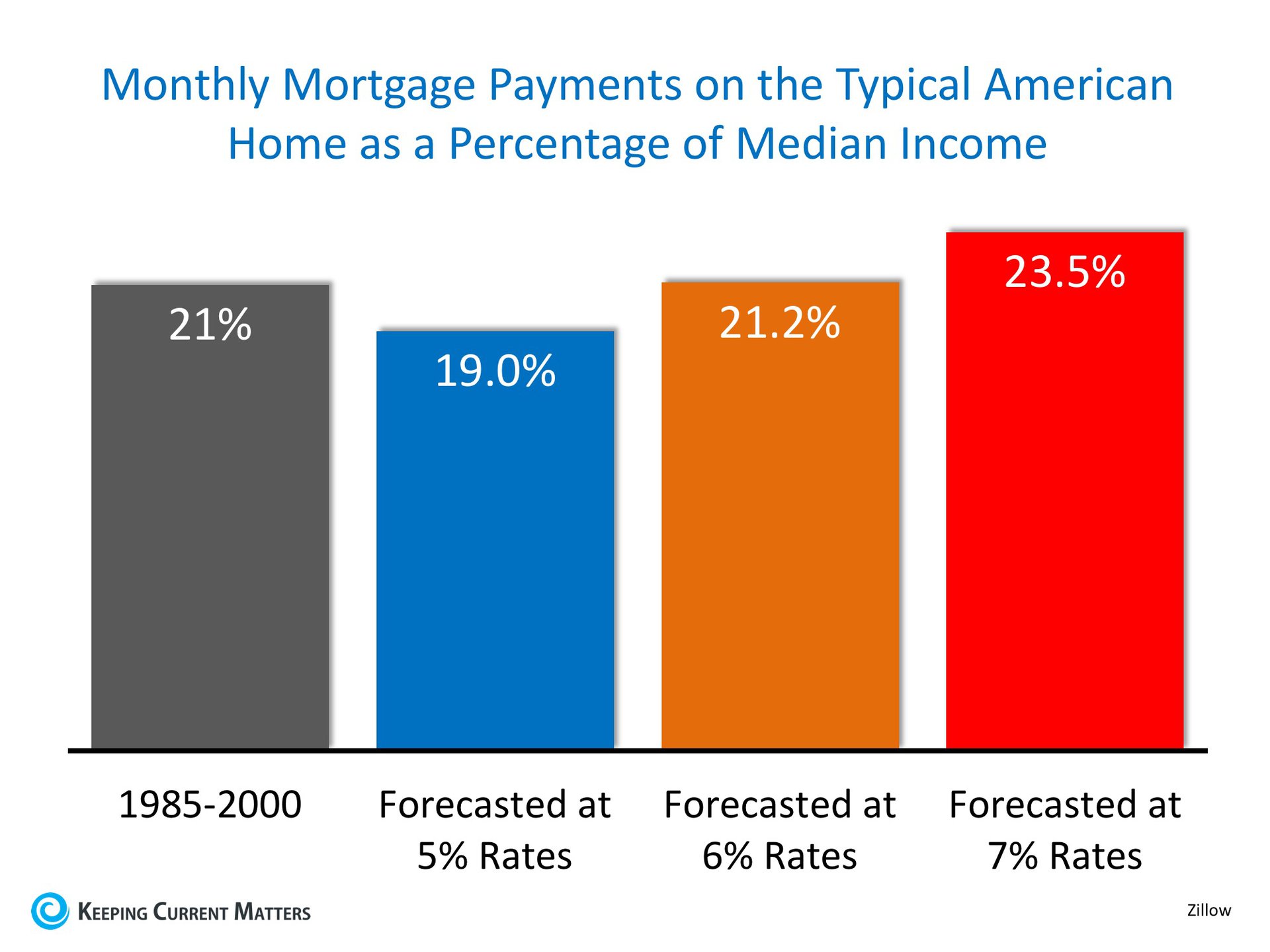 Rates would need to approach 6% before homes became less affordable than they had been historically.
Bottom Line
Though homes are less affordable today than they were last year, they are still a great purchase while interest rates are below the 6% mark.
VA Loans: Making A Home For The Brave Possible
Since the creation of the Veterans Affairs (VA) Home Loans Program, over 22 million veterans have achieved the American Dream of homeownership. Many veterans do not know the details of the program and therefore do not take advantage of the benefits available to them.
If you are a veteran or you know someone who is, here is a breakdown of the VA Home Loan benefits that can be used to achieve the American Dream!
Top 5 Benefits of a VA Home Loan
The greatest benefit of a VA Loan is that borrowers can buy a home with a 0% down payment. In 2016, 82% of all VA Loans put down 0%!
Private Mortgage Insurance (PMI) is not required! (Most other loans with down payments under 20% require PMI, which adds additional costs to your monthly housing expense!)
Credit Score requirements are also lower for VA Home Loans. The average FICO® score of a borrower for an approved VA Loan is 620, compared to 676 (FHA) or 753 (Conventional).
There is also a limitation on a veteran buyer's closing costs. Sellers can pay all of a buyer's loan-related closing costs and up to 4% in concessions in some cases.
Even with interest rates rising, VA Loans continue to have the lowest average interest rates of all loan types.
Who Qualifies for a VA Home Loan?
One of the most important first steps when applying for a VA Home Loan is obtaining your Certificate of Eligibility (COE). "The COE verifies to the lender that you are eligible for a VA-backed loan."
Serve 90 consecutive days during wartime
Serve 181 consecutive days during peacetime
Have more than 6 years in the National Guard or Reserves
Are the spouse of a service member who has died in the line of duty or as the result of a service-related disability
You Can Use a VA Loan To:
Purchase a Home
Purchase a Condo
Build a Home
Refinance an existing home loan
Make improvements to a home by installing energy-related features or making energy-efficient improvements
Bottom Line
For more information or to find out if you or a loved one would qualify to use the VA Home Loan Benefit, contact a local real estate professional who can help! Thank you for your service!
When homeowners decide to sell their houses, they obviously want to get the best possible price for their home with the least amount of hassles along the way. However, for the vast majority of sellers, the most important result is actually getting their homes sold.
In order to accomplish all three goals, a seller should realize the importance of using a real estate professional. We realize that technology has changed a buyer's behavior during the home buying process. According to the National Association of Realtors' 2018 Home Buyer & Seller Generational Trends Report, the first step that "42% of recent buyers took in the home buying process was to look online at properties for sale."
However, the report also revealed that 94% of buyers who used the internet when searching for homes ultimately purchased their homes through either a real estate agent/broker or from a builder or builder's agent. Only 2% of buyers purchased their homes directly from a seller whom they didn't know.
Buyers search for a home online but then depend on an agent to find the home they will buy (52%), to negotiate the terms of the sale (47%) & price (38%), or to help understand the process (60%).
The plethora of information now available has resulted in an increase in the percentage of buyers who reach out to real estate professionals to "connect the dots." This is obvious, as the percentage of overall buyers who have used agents to buy their homes has steadily increased from 69% in 2001.
Bottom Line
If you are thinking of selling your home, don't underestimate the role a real estate professional can play in the process.
Thank you,

David Hoshaw
HomeSmart Intl.
CA-BRE #00941733 Real Estate Broker
"Real Estate for Your Life!"
Phone or Text 661-367-8181
Email david@scvrealty.com
Website: www.SCVRealty.com
Get Your Real Estate Value Here!

CRS, GRI, CDPE, e-PRO, SRES
Designated Green Realtor
Senior Real Estate Specialist
Probate Real Estate Certified
Commercial Real Estate Certified
Certified Residential Specialist

Chance can allow you to accomplish a goal every once in awhile, but consistent achievement happens only if you love what you are doing. - Bart Conner.